How Does Human Hearing Work?
September 24, 2014
The human ear is a sophisticated piece of equipment that has been developed and honed over many years of evolution. Until we start experiencing hearing loss, we often take our ears for granted. Turn that music down!
So, how exactly does human hearing work?
The Hearing Process
As you probably remember from school, sound travels in waves. When sound waves reach our ears, they travel and vibrate down into the ear until they hit our eardrum. Once the sound waves have reached the eardrum, the vibrations are passed along bones (hammer, anvil and stirrup bones) and filtered through the cochlea (on a diagram of the anatomy of the human ear, the cochlea, along with the semicircular canals, often looks like a snail) and hair cells (absolutely vital to the entire process), transforming the vibrations into nerve impulses along the way. These impulses are then fired off to the brain. The brain then decodes and processes the sound! Amazing, hey?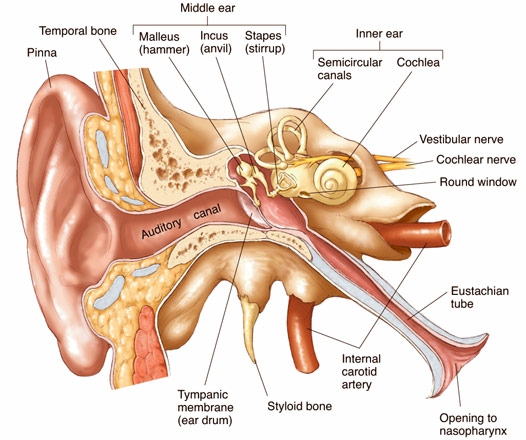 The Anatomy of the Ear
Anatomically speaking, the human ear can be broken down out into three key parts; the outer ear, the middle ear and the inner ear. The outer ear is the section of the ear that we're all familiar with, the part that gets cold in the winter, or goes red when we're embarrassed, leading down the auditory canal to the eardrum (a very thin membrane and gatekeeper to the middle ear). Deeper into the ear, and beyond the eardrum, the middle ear contains the tiny hammer, anvil and stirrup bone. Sound is processed mechanically through the middle ear as the bones conduct the sound to the inner ear via vibration. The inner ear is the electrical component and contains an assortment of nerves, the aforementioned cochlea and semicircular canals which assist in our balance.
Did you Know?
Even when you are sleeping, your ears continue to function just as they do when you're awake. However, your brain intentionally disregards the sounds.
For questions about your hearing, please contact us. We'll be happy to help.