An audiogram is a measurement of hearing thresholds found on a graph. There are two sides to an audiogram – the vertical edge is a measurement of decibels from very soft at the top to very loud at the bottom. The horizontal edge is a measure of frequency – from low frequencies or base sounds on the left side moving to higher pitches or treble on the right side. Across the frequency and decibel range there is an area known as the 'speech banana'. This is where all the sounds of speech are found on the graph; the low pitches include vowels and harder consonants ('d', 'b', 'a', etc.) while the high pitches include soft sibilant consonants ('sh', 's', 'th', etc.). Often the high pitches are affected, especially with a noise induced hearing loss, and then clarity may become an issue. For example, if the first consonant of a word is indistinguishable, the individual may guess at the meaning of the word within the context of the sentence or topic. As noted on the graph below, even those individuals with a mild hearing loss will experience difficulty hearing certain speech sounds within various listening environments.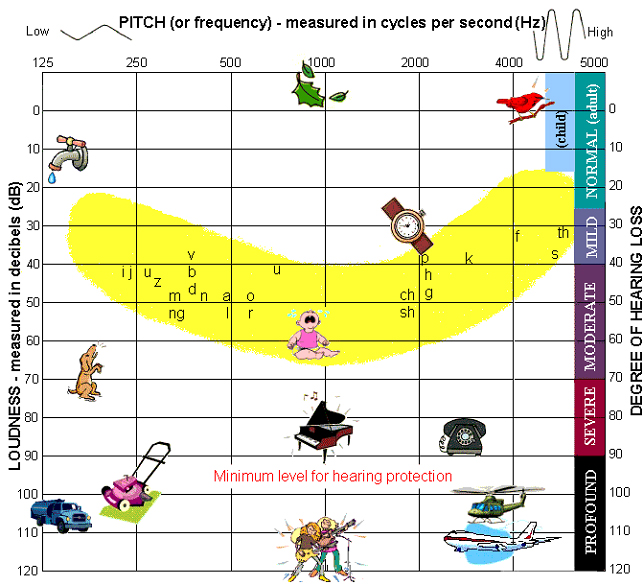 Levels of Hearing Loss
Normal Hearing
Child Normal Hearing: -10 to 20 dB HL
Adult Normal Hearing: 0 to 25 dB HL
Mild Hearing Loss
26 to 40 dB HL
Individuals with this type of hearing loss may experience some difficulty keeping up with conversation, especially in background noise.
Moderate Hearing Loss
41 to 70 dB HL
A moderate hearing loss will cause great difficulty in communication/socializing without the assistance of hearing aids.
Severe Hearing Loss
71 to 90 dB HL
Powerful hearing aids along with lip reading abilities are best suited in order to communicate effectively for this individual.
Profound Hearing Loss
91 to 120 dB HL
These individuals are very hard of hearing and may rely heavily lip reading and/or sign language. Extremely powerful hearing aids may assist these individuals.